ROI@ATH May 11th
Hey hey heeeey!!
Exactly on the report I made the 1st of May I was writing "I am really curious to see what will happen this halving time. All the crypto market is tracked by this EVENT which is about to take place in 10 days from now. 10 days to reach out 10k. Doesn't it sounds good?"
Exactly the 7th of Maty BTC reached the 10k+ target and from there the decline began. In reality I was expecting to see a further push today or tomorrow toward the 10.5K but maybe i was a bit too optimistic. From the 8th of May red candle began to fall down like rain on Doctor who in my header image.
https://www.youtube.com/watch?v=vILS6KvpUPM
Actually this whole BITCOIN situation, reminded me about this song, causing me a GREAT LAUGH INDEED! Please look at the header image while listening to this song...ahahahahha!!!
Yes!! Everything could happen, but looking at buy volumes all across the board…well….I think we can exclude a break up, over the latest TOP.
So..at the time of writing we are just 9 hours away from the halving and the BITCOIN price went down almost 20% and now is just sitting above the 21 SMA (yellow line) of the DAILY CHART.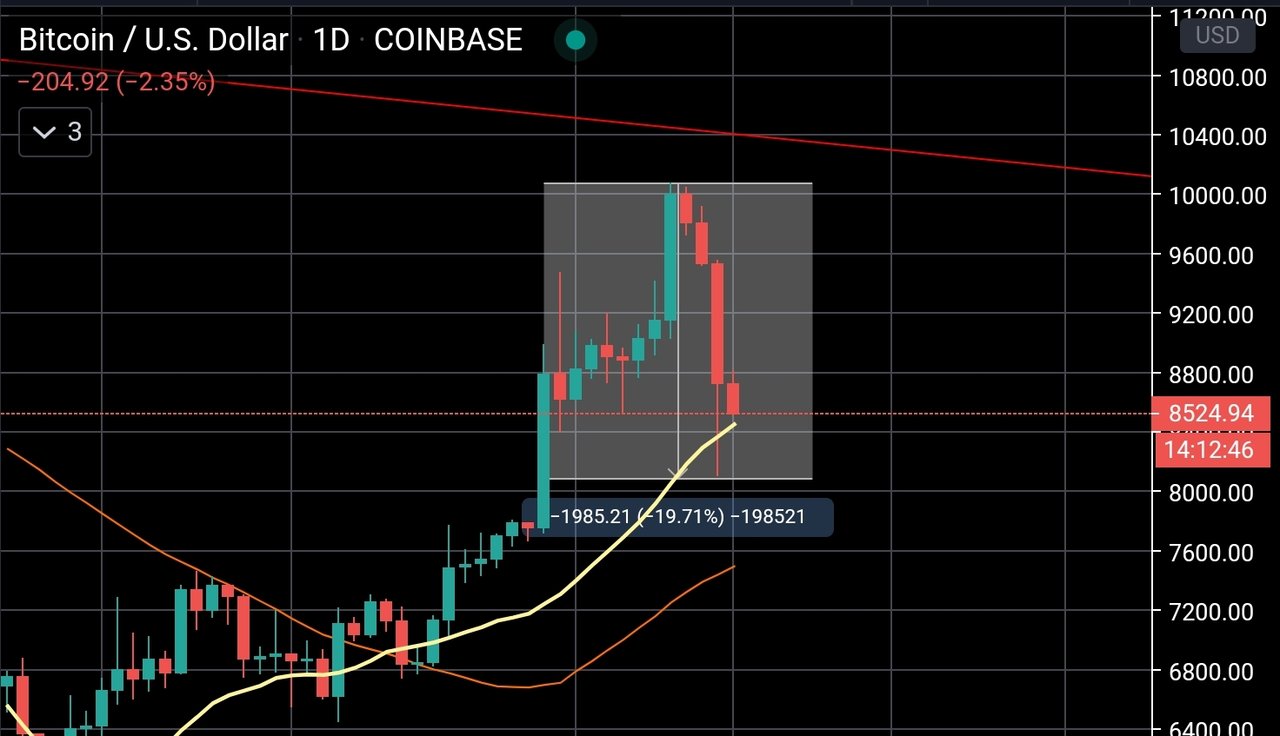 In the lower time scale, like the 1HR, price just don't give sign of recovery so we are most probably going to fall down to the 7.5K support area.
For XRP the picture is slightly different. XRPUSD price reached its TOP on the 30th of April, when it got rejected from the upper trend line of the channel it was walking from the latest lower low. From the 30th of April's TOP, XRP price went down already a good 24%, breaking down from the mentioned channel, crushing down also the DAILY 21 SMA and 50 SMA on the same day. Despite this extraordinary push down, Bulls managed to recover at least above the DAILY 50 SMA but it seems, like on the BTC chart, that the BEARS are now in full control. Main LOCAL SUPPORTS for XRPUSD are now 0.173$ ( 50% fibonacci retracement) and 0.16$ areas ( 61.8% fibonacci retracement).
I say LOCAL, because if this is the premise of a new mid term bear cycle, things could escalate in a very bad manner in the near future: 2 to 5 weeks.
Why I say 2 to 5 weeks? I just looked upon the historical data I mentioned on my last report the 8th of May.
That being said, how much will be our X FACTOR @ ATH today? Without further ado…Let's go and check it!!
Basically, for every different crypto you'll find on the chart to follow, I give as example a very low investment budget of 250$ and for each crypto you will see what is its value today (in the moment this article is published) in the first column called PRICE TODAY.
UNITS w/250$ column states how many units of that given crypto you'd purchase today at this price.
ATH column stats the value that that given crypto reached at its all time high price.
VALUE@ATH column is the worth of your invested 250$ of today IF that crypto touches again its ATH price.
X FACTOR column is just the times your investment is multiplied in the case mentioned above.
Now let's go down to the XRP@ATH.
How to read the following chart:
- First column is your hypothetical investment of today.
- Second column is xrpusd price of today.
- Third column are the xrp's units you'd purchase today with that given sum.
- Fourth column is the All Time High price of xrpusd pair.
- Fifth column is how many times you'd multiply that given sum you invested today WHEN and IF All Time High price is reached again.
- Sixth column is the value of your investment at the point of All Time High WHEN and IF it is touched again.
ROI@ATH and XRP@ATH are released every Monday and Friday so stay tuned!!
Prices are updated at 12am CET.
Always remember that all of this, is done for educational purpose and is not to be taken as a financial advice.
SEE YOU ON FRIDAY FOR THE UPDATED CHARTS!!
Have fun!!
Twitter: S7eez – Tradelta 🇮🇹 📈 (@TradeIta): https://twitter.com/TradeIta?s=09
Cinnamon Video: https://www.cinnamon.video/Tradelta
Youtube channel: https://www.youtube.com/channel/UCFDkKsY8GvKrTLewhuPyvIA
Join PYNK to earn company's shares by making price predictions : https://beta.pynk.io/r/Criptoitatrade
https://www.coinfield.com/ref/0/ID12E24CFD29 CoinField | Join now and get 40 SOLO for free.
Lancia☀️